Safety Insights and Diagnostics

A real-time hyper aware diagnostic and safety insights reporting tool that helps identify concern areas, gaps, trends, opportunities, shortfalls and predictive analysis.


Diagnostic tool on reported incidents to work out what led to the incident, root causes and actions to prevent it
Highly customisable and advanced reporting dashboard
Safety insights
LTI and other statistics


Injury Management & Workers Comp Claims System
Platform for managing an injury in the workplace from start to finish. Full workers comp claim management with return to work plan, diagnostic, investigation, notes, medical certificate and appointment management, treatment history and liability outcome. Includes full communication and appointment management, letter templates and claim accounts management. Registry of open claims and tools to help manage all aspects of an injury / workers comp claim.





Medical certificate management
Return to work plan
Custom notification rules
Workplace rehab appointments and history
Workers comp claim management
Liability decision
Full record keeping management relating to the injury
Safety Walk By
One of many safety tools we have developed for digitising typically paper based processes. The leadership safety walkby is perfect for categorising work areas by risk level and creating automated online workflows for a safety walk by process. Management or other staff conducting safety walk by's can do so straight from a tablet or mobile phone, capture photos of different areas, colour code by risk level and establish a more centralised and real-time approach.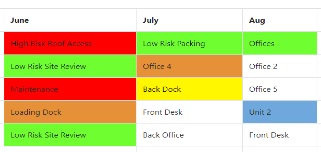 Safety Documentation and Resources
Our platform allows you to centralise all safety documentation with version control, date published and split into different categories. Common areas include:




Tool Box Meetings
Evacuation Plans
Audits & Inspections
Policies
Manuals
Circulars
Procedures
Risk Matrix and Risk Registries
Create custom risk matrix, risk classification tables, risk registries with notifications, alerts, escalation rules and custom risk workflows.